The catalan language
The Catalan language, like Italian, Spanish, French, Portuguese and Romanian, is a Romance language, which comes from the Latin spoken by the ancient Romans. It has been also influenced by other languages ​​such as the iberic-basque and languages ​​belonging to the Arabic and German language groups.
In the following image you can see the current areas where Catalan is spoken: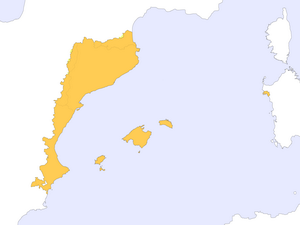 Catalan is spoken in four different countries:
Spain (Catalonia, Valencia, Balearic Islands, fringe of Aragon, and Carche) li>
Andorra li>
France (Northern Catalonia) li>
Italy (Alghero) li>
This language was created between the eighth and ninth century, but the first written texts in Catalan are from the twelfth century. These texts were part of books about the law, such as the Llibre jutge, or about religion, such as Homilies of Organyà
Thanks to Ramon Llull, a famous Mallorcan writer, philosopher, theologian and mystic of the thirteenth century, the Catalan language acquired prestige, and later became the official language of the Crown of Catalonia and Aragon, and this allowed it to spread to other countries and to bring fame to its literature, with novels of chivalry como Tirant lo Blanc, written by Joanot Martorell, or the anonymous Curial e Güelfa.
But it was not until the beginning of the twentieth century that the Catalan began its normalization and normativization, under the rules of the professor and linguist Pompeu Fabra.